Dr Gerry Thompson
Senior Clinical Lecturer in Radiology, The University of Edinburgh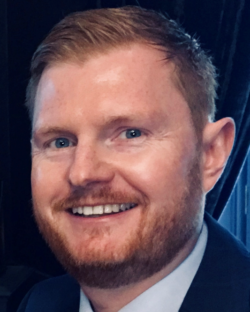 Gerry Thompson is a Senior Clinical Lecturer in Radiology at the University of Edinburgh and an Honorary Consultant Neuroradiologist in the NHS Lothian Department of Clinical Neurosciences providing specialist neuro-oncology imaging diagnostics for South East Scotland. He trained in Radiology and Neuroradiology in the North West of England, completing a PhD in quantitative imaging biomarkers in glioma at the University of Manchester in 2012, before taking up an academic consultant post in Edinburgh in 2016. Gerry is Co-Director (Neuro) for the University of Edinburgh/NHS Lothian Clinical Research Facility Image Analysis Core which provides imaging support for academic studies and clinical trials. His main research interests cover quantitative neuroimaging with MRI and PET, and studies into optimising timing of studies in brain tumour follow-up. He is the imaging co-lead for the multicentre Tessa Jowell Brain MATRIX clinical trial platform, and imaging lead for the multicentre NIHR-funded SPRING (seizure prophylaxis in glioma) clinical trial. He is the Edinburgh PI for the multicentre DIG (Diffusion in Glioma) study and provides local Radiological expert assessments for several international neuro-oncology clinical trials. His multicentre projects include streamlining image-based response assessments through RANO, and development of machine learning and artificial intelligence tools to quantitatively assess radiomics and response in multicentre imaging data and integrating this with non-imaging data, particularly those coming through heterogeneous standard of care pathways. Gerry is a current member of the NCRI Brain Glioma Subgroup, and sits on the Scientific Advisory Board of the Brain Tumour Charity. He engages directly with patients and carers to provide insights and education into the role of imaging in brain tumour management through seminars organised and delivered through Brainstrust.

Gerry's quantitative biomarker discovery research involves combining multimodality cross sectional imaging including novel contrast agents and tracers with histology and spatially-resolved phenomics. This includes extensive translational work having recently co-founded ENTIRe (Edinburgh Neuro-oncology Translational Imaging Research) in the Centre for Clinical Brain Sciences and ALLMoND (Academic Led Large animal Models of Neurological Disorders) in the Roslin Institute. He is the neuroimaging member on the Large Animal Steering Group at the Roslin Institute and is the Clinical Imaging Adviser for the recently completed £25M Large Animal Research and Imaging Facility (LARIF).

Gerry aims to provide more useful, actionable, individualised insights into brain tumour diagnosis and response through making best use of available imaging tools, and developing novel techniques to address unmet needs such as bespoke treatment selection and robustly differentiating tumour treatment response from progression.