Dr Ryan Mathew
Associate Professor and Honorary Consultant Neurosurgeon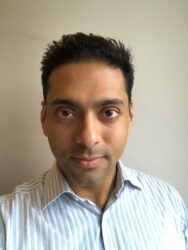 Ryan Mathew is Associate Professor and Honorary Consultant Neurosurgeon in Leeds.

Alongside general neurosurgery, he has a specialist interest in meningiomas, gliomas and awake surgery. His research interests include developing and investigating novel glioma models along with biologist Dr Heiko Wurdak, with whom he co-leads the Stem Cell and Brain Tumour Lab Group. He also leads a research portfolio in surgical technologies and devices which encompasses virtual/mixed reality for patient consultation, training and pre-operative planning, machine learning for early brain tumour diagnosis and malignant transformation, and real-time intra-operative tumour identification and histology.

He is the Neurosurgery Lead for the NIHR Surgical MIC, Surgical Technologies Academy Incubator and RCS Leeds Institute of Clinical Trials Research. He is a member of the Academic Committee of the SBNS, BNOS Research Subcommittee and a HoloMedicine Association Founding Member. He peer-reviews for a number of journals and grant award committees.